Yesterday I bought the watermelon chair from work. If you can believe it the original price on the chair was $498 plus tax. I got it for $30! Hooray. It'll look cute in our house. I'm going to put it in the studio.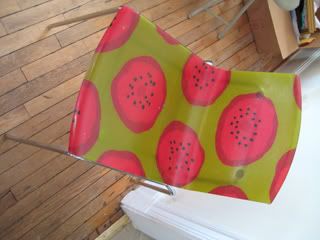 Today is Andy's 25th Birthday! Last night his mother, Barbara, who is the sweetest mama ever, took us out to Ru San's. Andy wouldn't let me tell them it was his birthday because they like making a ruckus banging on pots and pans--but you get free ice cream dessert! It's totally worth it! And they take a picture and put it up next to the bathroom. But whatever we still had a nice dinner. Sorry if the pictures are blurry, Andy's on a "no flash" kick, he says it makes the pictures look indie. Haha.
His mama brought a delicious cake!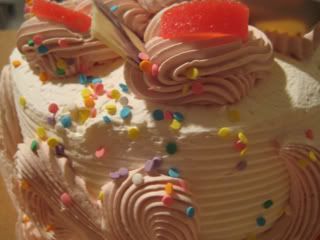 I loved this cake it was like a fanciful Funfetti cake. There's all kinds of random stuff on it: chocolate shavings, sprinkles, and gummies.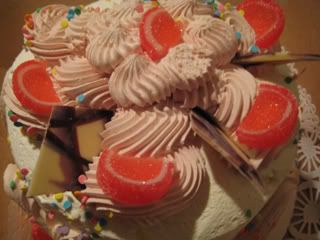 It was a white cake with raspberry filling.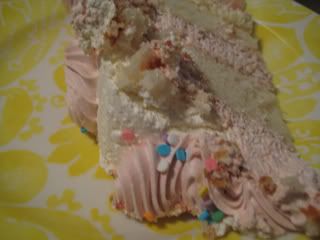 It was as good as it looked!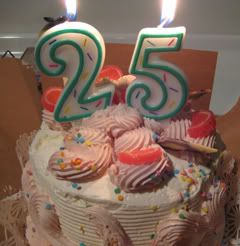 He looks just like his mom!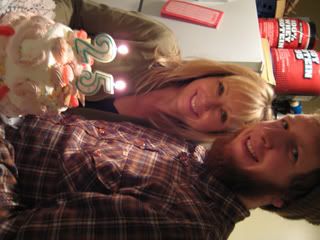 Deep birthday wishes.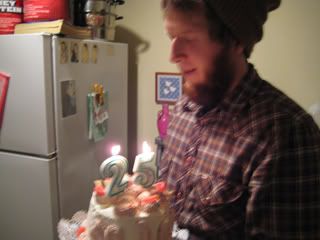 I got him some random, weird ass books I thought he would like, a reggae cd, a print of Native American art from a local artist, and I paid for his hostel in California.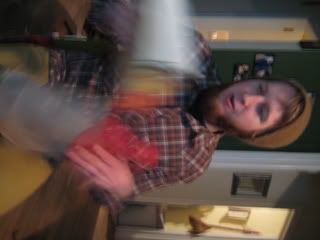 He'll be at this conference until Tuesday morning. Damn, Anthropologie just called and asked me to come in early. I'm working all doubles the rest of the weekend so I'm sure I won't have time to do any fun crafting. *SigH*....I gotta figure something out. I have this nice studio and no time to do anything.