I looooooooooooove Spring and Summer. It's going to be awesome. We already have tons of exciting things planned and it's not even warm yet. Hehe. Irene is working on her clothing line with our mama. Their line is called "Recycle I.T." I'm so proud of them, everything is so high fashion and gorgeous. I'm always bragging to everyone about how good of a seamstress my mama is. Now I just need to lose all this winter weight so I can wear some of their designs! Eep. I just need to lose like 20 lbs. hopefully won't be that hard since I love playing outside and jogging when it's nice out. I just checked weather.com. This month will be pretty mild as well as March, then it's SPRING!! wwwwweeeeeeeeeeeee.
Irene and I are working on a joint art show...it's going to be a themed show where we both do the same illustrations in our individual style. They will be all animal drawings. Neither of us have anything yet; we'll have a month and a half to finish, but we're both really good at working on things when there's a deadline. Here's our animal list so far, let me know if you have an idea for a certain animal that would be neat.
eurasian badger, alpaca, red river hog, wombat, red panda, hedgehog, owl, elephant, beluga, hummingbird, wooly mammoth, duckbill platypus, tapir, bee or leafbug, some kind of reptile, penguin, okapi, anteater, jackalope, unicorn, caribou or moose, faun, and borrow bunny eats banana from jenny
a toucan painting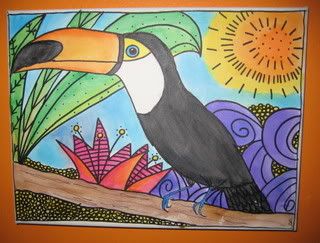 Then we're going to design Twin Costumes for our annual Twin Birthday Party. It'll probably be at our new house on April 25th. We might get someone to DJ. I don't know, I'm kinda possesively psycho over dance mixes, but I'll consider it. Here is a clip that Deuce took at our last Twin Party that was at Liz's house:
http://www.youtube.com/watch?v=fCjNp7gMVyM
Also hopefully we'll do more craft bazaars at Snug Harbor once it gets warm? I'll take pictures next time. It's always so much fun!