Sorry I've been MIA ignoring all of my blogging duties. I have been feverishly looking to get a car because I really need one! I finally found my car, my dream car! And it was a STICK SHIFT. Of course I have never driven a manual but I bought it anyway because it was perfect. So I guess I have to learn how to drive it now. Haha. I love doing things backwards. I think it'll take me a month (hopefully just a month!) to get good at it. I just need to be pretty good at driving it because I live in Charlotte where traffic is sucky and people drive sucky so I don't really have room for fuck-ups. And I'm scared of burning out the clutch! But other than that I love the car. Haha. It's even this pretty green color. Working so hard on my credit finally paid off! I got an awesome interest rate (especially for it being a used car). 5.99% Kaching. At least now I know how awesome I am at playing hardball with slimy salesman. Afterwards Jenny and I went to Michael's house. He made us maynaissey pasta salad and chocolate milkshakes in his fancy KitchenAid blender.
2004 Hyundai Sonata
My first big girl purchase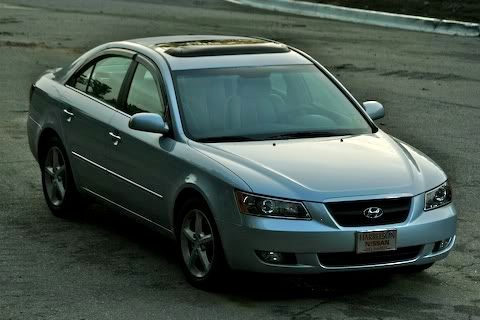 Other than that, I have been working a lot. I am only going to be working one day a week at the restaurant and (hopefully) going full-time at Anthropologie. That way I'll actually have two days off a week so I have time to work on things I want to work on! And play outside when it's gorgeous. I've been wasting all these months working and working and working. I'm so over it! That's it for now.