Munchkins have always been a personal favorite of all the stuffies I make. They're just so simple and adorable. And they're small and affordable ($10-13). So I decided that I would make it a shoppe staple and start making lots of them in different colors. I don't have any Munchkins left from the Craft Bazaar, so I have to make a little Munchkin army from scratch. I made only one tonight. This little lavender fella. I'm going to upload him to Etsy tonight if my computer would stop being so sllllooooooowwwww...
Munchkin, $10 posted in my
Etsy shoppe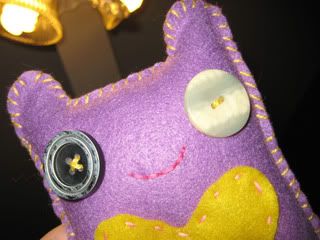 Here are some of my previous Munchkins that I love.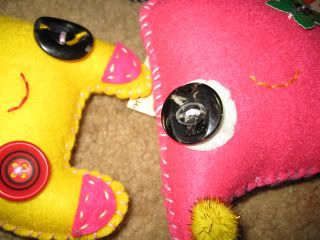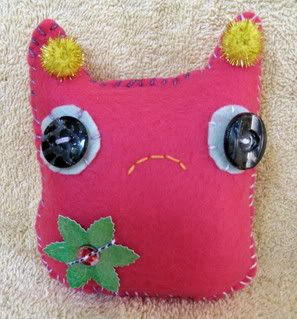 I'm not sure why they're all sad faced.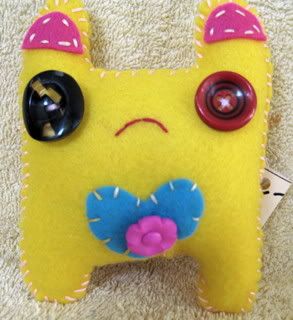 I normally just cut random shapes and start stitching away but I think the best way to go about it is to stick to my best designs and have stories behind them and just make those to keep things more consistent. So far I know I will make my Munchkins, Kitties, Dotties, and Teddys. I also have tons of little drawings that I need to paint. I wish spring would get here so I can get remotivated, I just feel so lethargic in the winter time.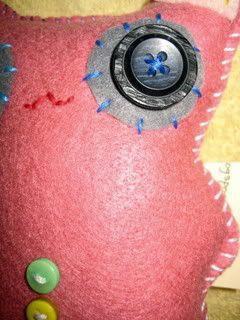 In other news, Andy is sick 4 days before he leaves for Los Angeles. I'm pretty sure he has what I had.....oops! He has all the same horrible symtoms. I just drugged him with Nyquil so he's knocked out at the moment. *sigh* I had two whole days off and got nothing done! DAMN. Back to work tomorrow.