Today was a gorgeous day. Andy is still sick as hell and asleep all the time. Irene and I went on a jog tonight after I got home from work. It was a nice jog. It's cool having a jogging partner. So I decided that I have to get a car on my own....I haven't had a car in years! Weird*....anyways I guess I'm going to take a loan out from my bank and look for a car on my own. I have a strong idea of what I want. I'm sure that I can get it paid off relatively quickly..
Today's
Etsy Shoppe
item update:
Record Player Pin $6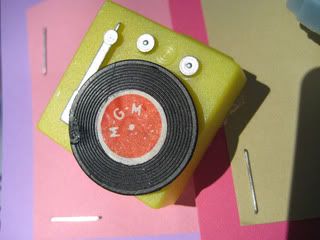 I am working TWO jobs right now...part time at
anthropologie
and also part time at
300 East
. I'm not doing too well money wise which is why I'm trying to sell my stuff. I'm going to try to set up an art show with Irene at Black Sheep. Jenny just had hers and did really well! But if i HAVE to spend money I either spend it at work (booo!) or on Etsy (yay!).
I can't post the item I just purchased because it's a gift for a certain someone who reads my blog occasionally but I'll post it after Valentine's day!
I'm getting myself this, I think. I love it. It's from Deadworry.
http://www.deadworry.etsy.com