So thing's are going well right now. I am pretty much content with everything, except for the fact that my old apartment complex is hounding me for money that I don't owe them and it's slightly stressing me out. Andy moved out and I have been really productive with my artwork and creativity as of late. I think I just needed some time (instead of working so much) to breathe in order to be creative again. I have done more than 10 pieces already, and I'm almost done with everything for our upcoming art show. I think everything's going to look fabulous. I'll try to take lots of pictures! I wrote the artist statement last night, and Irene and I have to make some prints to sell at the show. I have two more pieces that I need to make and I want to work on some Stuffies, but other than that I am basically done. PLUS I did some major cleaning and everything in the house is clean and organized again. I've peeped a couple of Irene's pieces and they look AMAZING. I'm really excited to see everything up. I'm driving my car fine every day now, still not awesome at it, but greatly improved for sure. It's still really cold out so I haven't really exercised yet...I'm ready for some of this winter weight to come off dammit. I even got a sports bra today! (but I also got a bunch of sale easter chocolate, tsk tsk).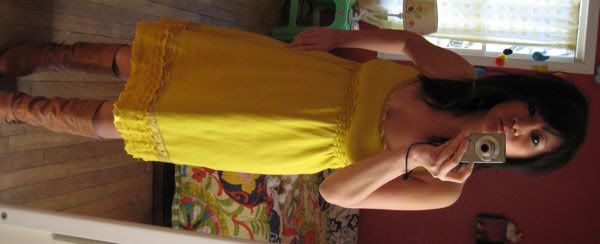 I got a new dress in my favorite color. I might wear it to the art show.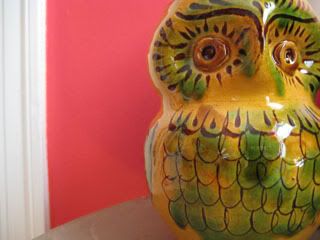 alt="Photobucket">
I love this vase. I use it for pens.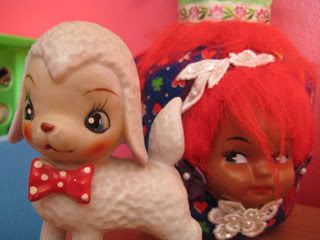 These are on a table in my bedroom. The little figurine is a vintage piece, the guy said that people are really into collecting figurines with polka dot bowties and that it's highly collectible or something. Whatever I love it. And the creepy thing next to it is an awesome vase that Corey (from Dish) made with a doll face on it. We traded. She wanted one of my stuffed things. It's filled with fake yellow flowers.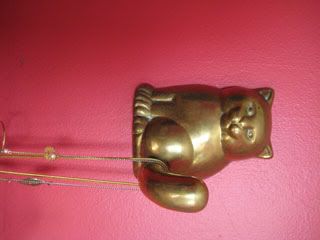 My little kitty hook. HOlding my infamous "S" necklace. Bling
Loooove this switchplate that I got from Amy Kay.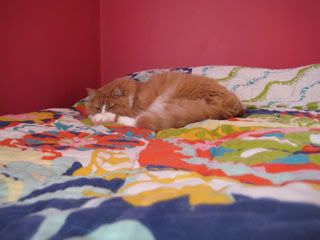 Mufficakes doing what she does best. Lounging on my bed. ALL DAY AND NIGHT LONG.